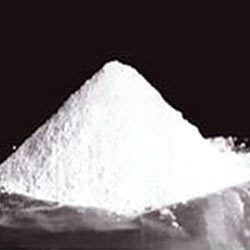 Barium Sulphate
Product Code : 11
Product Description
As a significant inorganic chemical, Barium Sulfate has multipurpose usage that includes formulation of medicines.
Chemical formula and structure: The molecular weight of barium sulfate is 233.43 g/mol and its chemical formula is BaSO4, It is basically the salt form derived from sulfate anion (SO42-) and barium cation (Ba2+) where four atoms of oxygen are connected. The metal form of barium is in +2 oxidation number.
Occurrence: The barium sulphate is present in nature in the form of mineral barite that serves as the good supplier of barium and its different compounds.
Preparation: Commercially, barium sulfate is derived from mine in the form of mineral barite and later it goes through various processing steps. The processing method of feculent barite includes application of heat by using carbon based coke to transform this barite into barium sulfide(BaS) to quicken its solubility in water. Later, this soluble barium sulfide is isolated from all sorts of foreign matters. In the next step, reaction between barium sulfide and sulfuric acid is conducted to produce impurity free barium sulfate based product.
BaSO4 + 4 C → BaS + 4 CO
BaS + H2SO4 → BaSO4 + H2S

Reaction between barium chloride or barium carbonate with sulfuric acid is another way to produce barium sulfate with accurate composition.
Physical properties: The barium sulfate with precise composition is notable for its white crystalline or powder form which is free from unpleasant smell. It has 4.49 g/mL density level. The boiling point of this organic compound is 1600 °C and its melting point is 1580 °C.
Chemical properties: Barium sulfate does not dissolve in water easily. It dissolves in concentrated form of acid and it does not disperse in alcohols. It becomes extremely sensitive when comes in contact with aluminum powder. Being highly soluble in water and having radio-opaque characteristics, barium sulfate has therapeutic value and it is also used for radio imaging purpose.
Uses: In health care sector, barium sulfate serves as suitable X ray contrast agent or radio opaque agent required to detect gastrointestinal disorders. Its application can also be noticed in concrete radiation shields and drilling of oil well. The other utilization of this organic compound includes production of paints and pigments, root canal filling for dental treatment, production of coatings and adhesives, manufacturing of paper and rubber, development of plastic fillers, pyrotechnic compositions, as catalyst supports, processing of linoleum and in textile field.

Health effects/safety hazards: Due to its insolubility in fluid based substances, barium sulfate is known as a non toxic compound. But it has adverse health effect in case it comes in contact with dust particles or if it is inhaled in higher amount, it causes breathing problem and can cause allergic reaction to nose and eyes.


Specification :

| | |
| --- | --- |
| CAS Number | 7727-43-7 |
| Formula: | BaSO4 |
| Molar mass: | 233.38 g/mol |
| Density: | 4.5 g/cm³ |
| Melting point: | 1,580 °C |
| Boiling point: | 1,600 °C |
| Soluble in: | Sulfuric acid |
| Classification: | Sulfate |
Contact Us
No - 349, Business Point, Office No - 601, 6th Floor, Western Express Highway, Andheri (E), Mumbai, Maharashtra, 400069, India
Phone :91-22-42452222/26844646/26845611