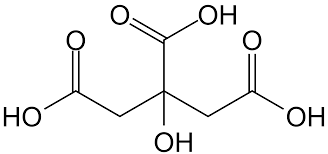 Citric Acid
Product Code : 18
Product Description
The naturally derived Citric acid is a basically a type of fruit acid. It is commercially manufactured by fermenting carbohydrate substrate. This organic acid is widely used to maintain accurate ph balance in medicinal items, beverages, edible items and it also has different technical utilizations.
The anhydrous citric acid is available in crystalline form which is white or free from any color. It is also accessible in crystalline powder form that has high acidic flavor. It is easily dispersible in water and is quickly dissolvable in 96% ethanol. It is slightly soluble in ether.
The citric acid anhydrous is reckoned for its environment friendly content and it possesses less reactivity level. Its chemical properties remain intact in case it is kept under necessary temperature. Citric acid anhydrous is recyclable and it can be discarded just like ordinary waste materials.

Properties

It does not contain any fluid content
It appears white or free from color
It is available in crystalline powder or crystal form
High acid content (the ph amount is around 1.8 in its 5% solution)
Generally it does not produce any unpleasant smell
It is easily dissolvable in water
It is quickly dispersible in 96% ethanol
It is slightly dissolvable in ether
Free form toxin content
Less reactivity level
It has fixed microbiological and chemical properties
It is completely disposable
Main functions

Acidifier
Retarder
Stabilizer
Ph adjuster
Antioxidant
Chelating agent
Flavor enhancer
Buffering agent
Applications

Food

Snacks, cereals
Infant formula, Baby food
Seasonings, Sauces, Dressings
Dairy
Bakery
Instant food, Ready meals
Confectionery
Ice cream, desserts
Vegetables, Fruits
Sweet spreads, Fruit preparations
Flavors
Seafood, Meat
Beverages

Water
RTD Tea and Coffee
Juice drinks
Carbonated soft drinks
Sports and energy drinks
Personal care

Oral care
Soap and bath products
Color cosmetics
Deodorants
Skin care
Fragrances
Hair care
Cleaners & detergents

Laundry care
Dish washing
Surface care
Industrial cleaners
Industrial Applications

Leather, Textile
Oil drilling
Sealants, Adhesives
Paper
Polymer, Plastics
Fertilizers, Agrochemicals
Refining and ore mining
Construction
Coatings, Paints and Inks
Fine chemicals
Oil drilling
Healthcare

Pharmaceutical items
Medical equipments
Clinical nutrition
Food supplements, OTC
Feed & pet food

Specification:
| | |
| --- | --- |
| CAS Number | 77-92-9 |
| Formula: | C6H8O7 |
| Molar mass: | 192.124 g/mol |
| Melting point: | 153 °C |
| Density: | 1.66 g/cm³ |
| Boiling point : | 310 °C |
| Soluble in: | Water |
Contact Us
No - 349, Business Point, Office No - 601, 6th Floor, Western Express Highway, Andheri (E), Mumbai, Maharashtra, 400069, India
Phone :91-22-42452222/26844646/26845611